There are few things worse than hitting the 'send' button on an email campaign you've painstakingly crafted, only to receive replies from well-meaning subscribers letting you know that a link doesn't work, or that their name is in fact Sarah, not */NAME|*.
OK, so it's way behind environmental disasters and world hunger, but it's still a pretty big deal.
To save yourself time, effort, embarrassment or worse, it's important to check these eight things before hitting send:
1. Is the email effective in getting the reader to do what you want them to do?
First and foremost, every email you send should have a purpose: an action you want the reader to take. Sometimes that's a link through to a sales page, sometimes it's a question you want them to answer and sometimes it's simply to read and process your educational content (e.g. a blog or a video).
If there's an offer, is it clear what the offer is? Is there a clear call to action, with a link or invitation to call or reply to the email? 
2. Check the sender's name and email address are correct
This is one of the easiest mistakes to make, and can be a tricky one to notice when it isn't set correctly. The sender's name should match up with the company or person it was sent from, but I'd always recommend it's a person's name rather than a company name.
3. Check your subject line
Your subject line is the first thing a reader will see, and it's usually what determines if they'll open your email. You want to make sure that you have an interesting and intriguing title in order to get people interested and engaged with your content. If you can't decide between two subject lines, most email marketing apps provide A/B split testing, which makes it really easy to pit one against the other with a small portion of your list, and then send the email with the winning subject line to the remainder of your list.
TIP: Check out my free 20 Best Subject Lines eBook for inspiration.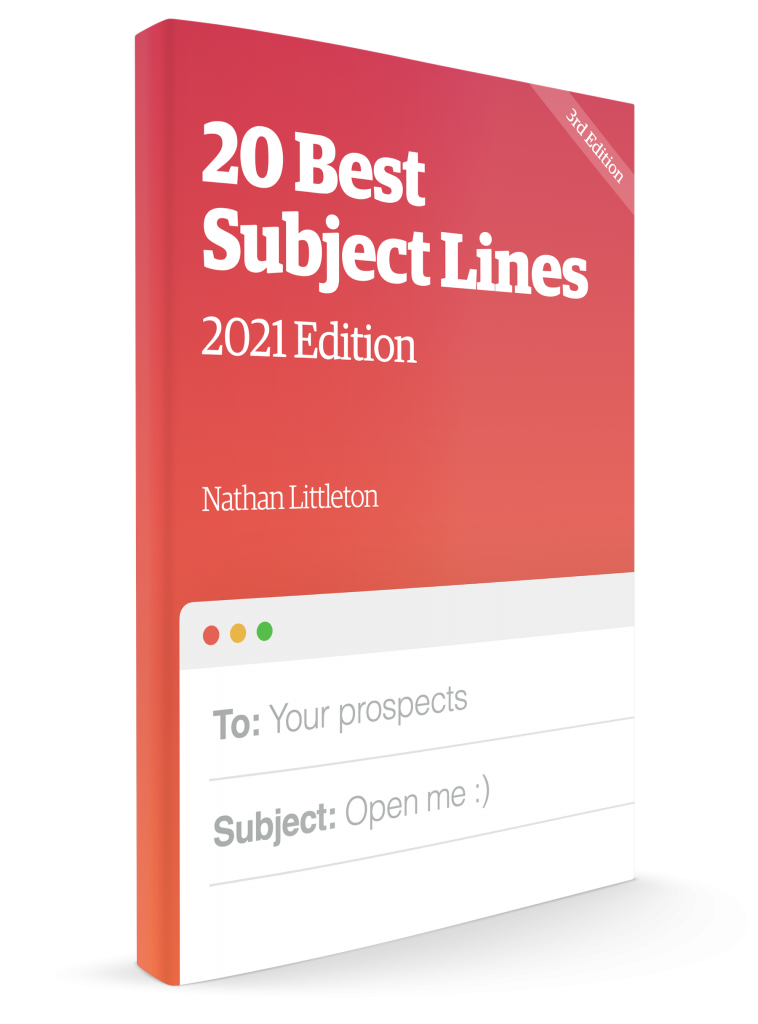 4. Check that all links work, and point to the right place
This may seem like an obvious one, but it's worth checking just in case! Make sure that every link works correctly and doesn't send people to an incorrect page or error message. Click each link individually before sending the campaign out. 
5. Review your message for typos, grammar mistakes, or unclear sentences
When we're sending an email campaign, it can be easy to get so caught up with the important details that you miss something as simple as typos or sentence structure errors. To avoid this from happening, review your message carefully before you send it out and check for any punctuation, grammar, spelling or syntax errors. If spelling and grammar aren't your strongest skill, consider using a spell check or grammar checking tool such as Grammarly to make sure everything is in order.
6. Make sure you have permission to send emails to the people on your list
This probably isn't something you'll need to check before each campaign you send, but it's important.
Of course, if you don't have permission, it could land you in legal trouble. But aside from that, it just isn't the right thing to do: if someone hasn't given you permission to email them and they see an email from you, you're already in their bad books, making it much harder to convince them why you're the person to listen to.
7. Make sure you're sending to the right audience
It's also important to make sure you've selected the right lists to send your campaign to, particularly if you have lots of lists in your account based on different products they've purchased or lead magnets they've requested. You need to be certain that it will appeal to them in some way and give them relevant information they want or need, otherwise people may unsubscribe from your list without opening any of your emails again.
TIP: In most email marketing apps, you can EXCLUDE lists of contacts from receiving a specific campaign, even if they appear on another list that you want to include.
Most email marketing apps have a feature to test your email in different email applications and against a range of spam filters so you can see whether your email is likely to make it into their inbox and how it'll be displayed when it gets there.
Send yourself a test email to give it the final seal of approval.
It's important to check these key things before you hit send on your email campaign. It only takes a few minutes but don't underestimate the power that these little steps can have on how well your message is received by customers and prospects. You will be glad you did!